I recently purchased a flat panel monitor cubicle hanger that attaches conveniently to my cubicle wall. If you want to learn more about it you can read this post. After living with this unique cubicle accessory for a few months, I absolutely love it because it took my flat panel monitor off of my desktop and the screen is at perfect eye level.
Well, recently I upgraded my flat panel monitor display with a 3M Flat Panel Mounted Copy Holder and I love it so much I may also buy one for my home office. I am basically anal when it comes to being organized and I'm actually proud of this fact.
Before I bought the 3M document holder, I used a free-standing plexiglas clipboard that, in hindsight, just cluttered up my desktop. This 3M copy holder easily attached to the side of my flat panel display with a 3M adhesive strip that is attached to a plastic adaptor. It was very easy to mount to my flat panel display and, if you check out the images below, you can see just how easy it was and the great results in my office cubicle.
Mounting the 3M Copy Holder to my Cubicle Flat Panel Display
(Click on any of the images below for a larger view)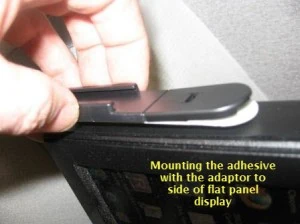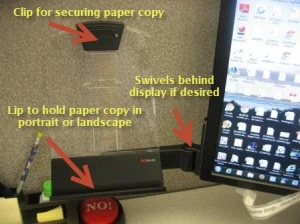 The 3M Flat Panel Copy Holder fits securely and conveniently alongside my flat panel display and swivels for the perfect orientation.
3M Flat Panel Mounted Copy Holder (DH445) Features
Dimensions – 10.1 x 10 x 2.7 inches
Product weight – 14.4 ounces
35 Sheet Capacity
Can mount to flat panel monitors and traditional CRT Monitors
Height adjustable clip secures sheets in portrait/landscape orientation
Lip on the bottom secures paper copy
If you are looking for a convenient way to securely hold your to-do list, your daily or monthly project list, or reading material, this 3M flat panel copy holder allows you to keep your documents off of your desktop and secure in the document holder. I've used mine now for a few weeks and I'm considering buying one for my home office as well. You won't regret the purchase of this versatile document holder for your office!
If you have any questions or comments about this item, or any item on this site, please don't hesitate to leave a question in the comments or just get in touch with me using my Contact Me page.
Bob has been blogging for over 20 years and has been an office and cubicle dweller for more than 35 years. He has been featured in numerous online publications such as US News and World Report, Bustle, and Work Awesome (you can read his articles here). He created the popular office website CubicleBliss in January 2011 and rebranded it as WorkspaceBliss in April 2020.
In the office he's been an IT Manager, Applications Engineer, Systems Analyst, Software Project leader, and Programmer Analyst in his long career. He's a Certified Microsoft Professional and possesses a Masters of Science degree and two Bachelor of Science degrees, one of those in Informational Technology.
During his career he has worked in the office full-time, as a hybrid remote worker, and has worked from home permanently.