Do you find that you don't have enough privacy in your cubicle? Well, this article will discuss in detail a sliding cubicle door solution you can add to your existing cube that will greatly enhance your cubicle privacy.
My biggest beef when it comes to working in a cubicle is that it's like working in a fishbowl. Cubicle privacy is simply non-existent.
I don't have a cubicle privacy door, no walls that go up to the ceiling, and basically no privacy whatsoever.
If you have to make a personal phone call, you probably have to find an empty conference room or step outside unless you want your neighbors to know your personal business.
This is simply the way it always has been when you work within the walls of a small cubicle. I find my cubicle a cozy closed office space but not when it comes to privacy.
Privacy Within a Cubicle can be a Reality
Well, there is now a solution to this issue. Cubicle privacy ideas, such as adding a curtain to a cubicle entrance, have been around for a bit but now there is a more permanent manufactured solution.
It's called a Quartet Workstation Privacy Screen , as seen above, and it would certainly make a huge difference when it comes to my privacy. Cubicles with doors have never been part of the traditional cubicle but with this new accessory a cubicle privacy door is now a reality!
What if you need to set up a conference call with a coworker or a customer? Without a door for cubicle privacy you really have to be aware of how loudly you are speaking.
My main complaint about working in a cubicle is that there isn't a door and your office space is in clear view to the rest of the company. This, at times, makes it difficult for me to focus on the tasks I need to work on throughout the day.
Well, I recently came across the Quartet Premium Cubicle Privacy Screen online and maybe there is such a thing as privacy within a cubicle. Let me tell you straight out that I do not own a sliding cubicle door so I cannot write from first-hand experience. I would give anything for a cubicle privacy panel, believe me.
I am looking into these cubicle doors for my own cube. I find a privacy screen for office cubicle rather intriguing since it would give me the ability to shut it and gain some much-needed privacy when I need to focus.
As a software developer, there are many times when I want to shut out everyone else to get my work done and this cubicle with door would allow me to do just that.
A cubicle door really makes the environment inside a cubicle much more private and more conducive to productivity. A cubicle privacy screen can offer an easy way for workers inside a cubicle to maintain their privacy while still allowing access to that space.
People can still come in and ask questions or obtain needed information from the occupant of the cubicle. Cubicle doors are certainly unique office accessories that would add a lot to existing cubicle architecture.
I'm actually surprised that the cubicle screen wasn't invented a lot sooner!
Door for Cubicle Reviews
Positive Reviews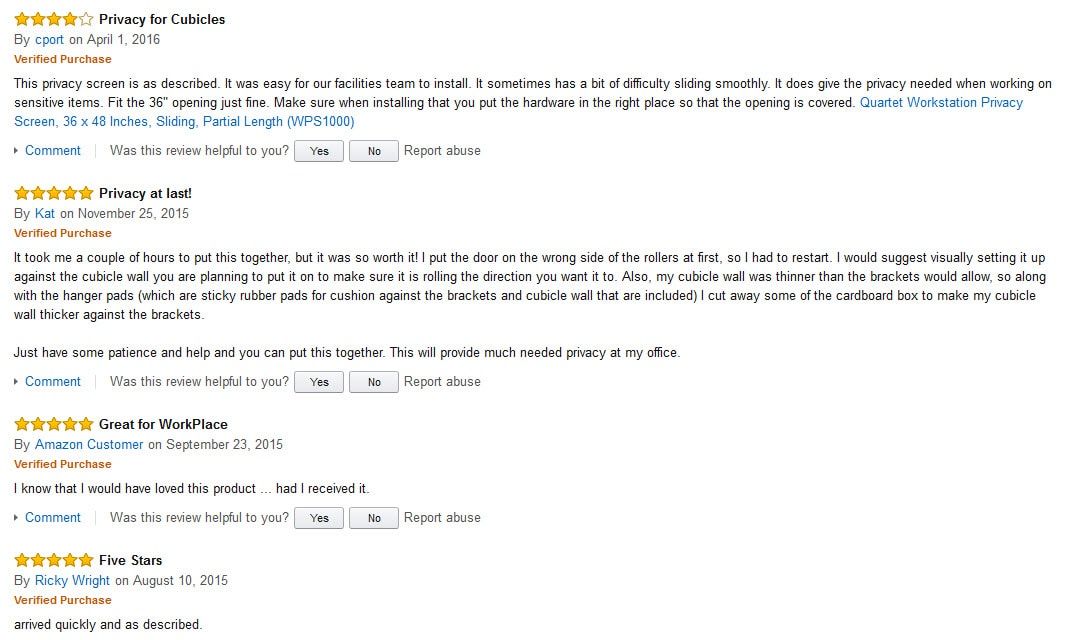 Negative Review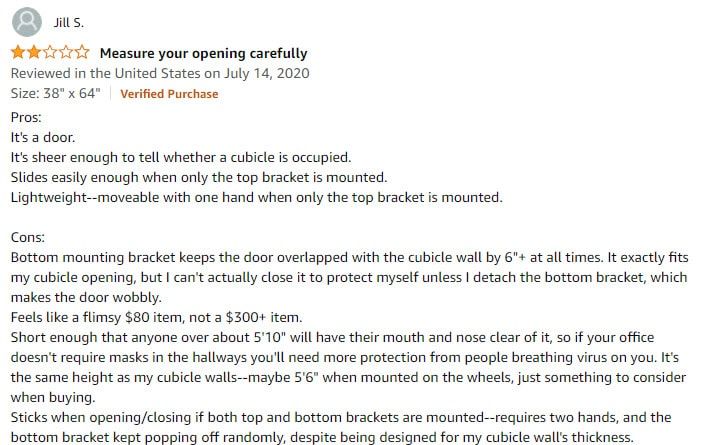 Personal Correspondence with one of the Reviewers
The following review comes from Suman Reddy on Amazon:
"Bought this for work, fits perfectly. I have gotten a lot of compliments and its been a real help for me to focus at work. Excellent purchase."
After I read this review I inquired for more info from Suman and I got this response from her:
Suman Reddy says:
hi Bob, Sorry for the late response.
1. So depending on how wide your cube entry one screen might not go all the way. My entry is about 3 feet wide and I have about a foot of open space after i pull the door closed. It covers most of the opening but not all.
2. The name plate is attaches to the top of the screen. The picture doesn't show it but it will slide along the metal fastener that hooks to your cube.
3. I actually didn't notice a dry eraser on my item.
4. I am extremely happy with it still. It has been a god send for me at work
5. Unfortunately I am unable to send images due to my work environment. Camera phones aren't allowed where I work. My apologies.
Sliding Cubicle Door Features
Comes in two different sizes 36 x 48 Inches, Sliding, Partial Length (WPS1000) and 64″ x 38″, Cubicle, Office, Aluminum Frame (WPS2000)
Partial-length lightweight workstation privacy screen for office cubicle transforms any cubicle into an interruption-free work zone; shatterproof, polycarbonate material is ideal for any office
These cubicle doors clamp to the outside of the cubicle partition wall, and slides and open and closed to create greater privacy within the cubicle
Fits cubicle heights 50″ minimum to 72″ maximum; minimum partition thickness is 1-1/4″, with 3-1/4″ maximum; includes attachable whiteboard with built-in marker tray and nameplate
Item Weight: 16 pounds
WPS1000 Dimensions – 2.25 x 52.25 x 36.75 inches
WPS2000 Dimensions: 38 x 15 x 65 inches
Color: Silver
Ultra-lightweight translucent plastic screen
Brushed Silver aluminum frame
Includes a nameplate and a dry-erase message board
Install on cubicle panels measuring 1-1/4″ to 3-1/4″ thick
Cubicle Privacy Just Might be a Reality!
This door for cubicle privacy certainly is interesting for those of us who live in the middle of Cubicle Nation. I think that the opportunity that this cubicle door provides for us cubicle dwellers is one that is long overdue. Maybe a cubicle screen will provide us with the privacy that we've all always wanted. Finally, it might just have become a reality with these innovative cubicle doors and it's certainly long overdue!
Other Cubicle Privacy Screen Options
Bob has been blogging for over 20 years and has been an office and cubicle dweller for more than 35 years. He has been featured in numerous online publications such as US News and World Report, Bustle, and Work Awesome (you can read his articles here). He created the popular office website CubicleBliss in January 2011 and rebranded it as WorkspaceBliss in April 2020.
In the office he's been an IT Manager, Applications Engineer, Systems Analyst, Software Project leader, and Programmer Analyst in his long career. He's a Certified Microsoft Professional and possesses a Masters of Science degree and two Bachelor of Science degrees, one of those in Informational Technology.
During his career he has worked in the office full-time, as a hybrid remote worker, and has worked from home permanently.