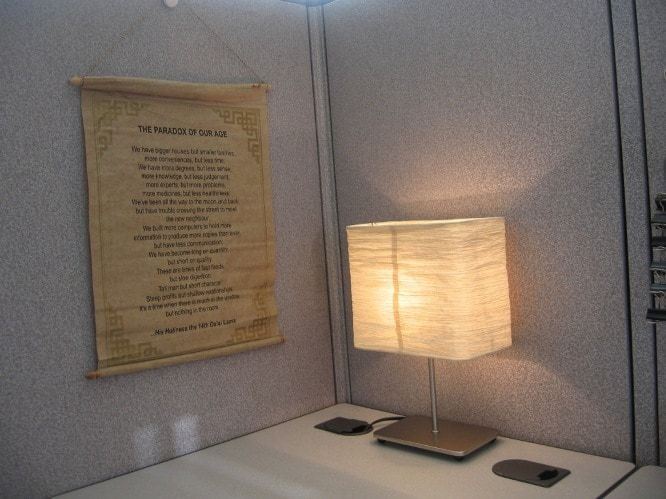 Are you struggling to upgrade your small office with some cool office lighting? Well, this article will give you some really cool office lighting ideas that you could incorporate into your own workspace.
Cool Office Lighting can Transform Your Office
The proper lighting in a workspace can make a huge difference!. A number of years ago I walked into a co-worker's office cubicle and it was spectacular! It was almost like I walked into his private study in his home.
Needless to say, he inspired me to not only make my work space the best it can be, but I think he also played a big part inspiring me to create this site. In his office, which was basically a cubicle with a door, he had everything in just the right place with absolutely no clutter.
But, to be completely honest, even though his office was organized spectacularly, it was his office lighting which made the biggest difference compared to all of the other offices in the company.
He had a corner floor lamp which spanned the height of his office which gave off a wondrous glow inside his work space. It was really my first introduction to the concept of cubicle décor and that if you make some small changes to your work space it really can have a big difference in how you perceive that work space.
So, it took me this long to actually go out and buy a lamp to enhance my office lighting. My cubicle has built-in fluorescent lighting that I use every day but adding this small lamp from Ikea has truly made a difference in the ambiance of my work space. The lamp in the link doesn't look exactly like mine, as that one isn't available any longer, but it is very similar.
To be honest, I think it's this unique shade material that gives the lamp its exotic look and style.
Cubicle Lighting Ideas Similar to Mine
It's hard to describe but for short money you can supplement your cubicle lighting or your home office lighting by purchasing a small lamp or, if you have room, spring for a slightly more expensive floor lamp.
Walmart has them for a reasonable price since we recently bought one for our bedroom. To be honest, over the years I had noticed a number of office lamps just within the cubicles in the general vicinity of my work space.
So, the other day after I placed the new Ikea lamp in my office, I went around to a number of cubicles right near mine and took some pictures of what others use for office lighting solutions. They can be seen in the images below.
Cubicle Lamp Ideas in Nearby Cubicles
Various cubicle light shade ideas and cubicle desk lamps below
As you can see from the images above, a lot of my co-workers have their own creative office lighting solutions and, at the same time, those end up being decorative office lighting to boost the décor of their cubicles.
So, there is both form and function to consider when it comes to adding cubicle lighting to your work space. I have included a number of other office lighting options seen below. You can click on any of the images to get more information.
(Click on any of the images below for more information)
As you can tell from the images displayed in this article, there are a multitude of office lighting solutions that you can incorporate into your own office cubicle or even if you have a larger work space. But I should caution you to choose wisely and make an illuminating difference to the space that you call your home away from home!
Cool Office Lighting can Make a Huge Difference
In your day to day office life, creative office lighting and unique office lighting certainly can make a difference in your attitude and your productivity. In this article you saw some really cool cubicle lighting ideas that I found in my place of employment. Just a creative cubicle light shade on a cubicle desk lamp can really brighten up what could be a dull, drab working space.
Get creative and try to incorporate some of the simple yet cool office lighting into your own workspace. You just might find it will make a difference in your work day and you just might not dread coming into that same old drab working space going forward.
Bob has been blogging for over 20 years and has been an office and cubicle dweller for more than 40 years. He created the popular office website CubicleBliss in January 2011 and rebranded it as WorkspaceBliss in April 2020. Over the years, he has been a regular writer for popular blogs such as DailyBlogTips and WorkAwesome (can read his articles here).
In the office he's been an IT Manager, Applications Engineer, Systems Analyst, Software Project leader, and Programmer Analyst in his long career. He's a Certified Microsoft Professional and possesses a Masters of Science degree and two Bachelor of Science degrees, one of those in Informational Technology.