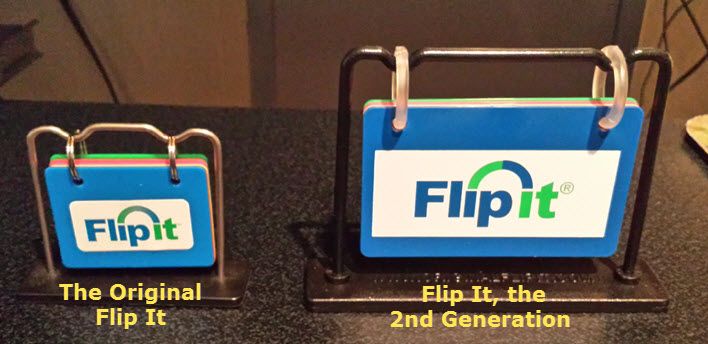 One of the most popular products on this site is Flip It and this article is one of the most read articles in the history of this site. Since I received my new Flip It, the 2nd Generation, I have updated the original article but I thought it might make sense to create a new article with a direct comparison between the original and the new Flip It as well as a YouTube video which I hope you won't miss below.
(Disclaimer: Flip It is an advertiser on this site. If you purchase one through a link on this site I will receive a small commission but it will not affect what you pay for the product. I would never advertise or recommend anything I didn't use myself.)
So, why did the original developer of Flip It create a larger and more versatile version? Well, it's pretty simple. She listened to her customers. It's as simple as that. Many customers said that the original Flip It was too small and asked her if she could develop a larger version. They also asked for additional tiles for other statuses as well as one that would act as a whiteboard that they could write down a custom status.
So, she basically satisfied both of those requests. And if you have already purchased Flip It, the 2nd generation you can follow this Facebook link and the developer will send you 3 new tiles – Do Not Disturb, Conference Call, and a customizable Whiteboard tile for free!
Check out the YouTube video below which will give you many more details…
Flip It, 2nd Generation images on right in each image below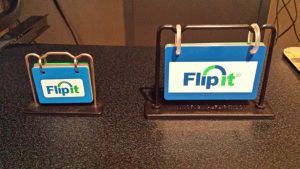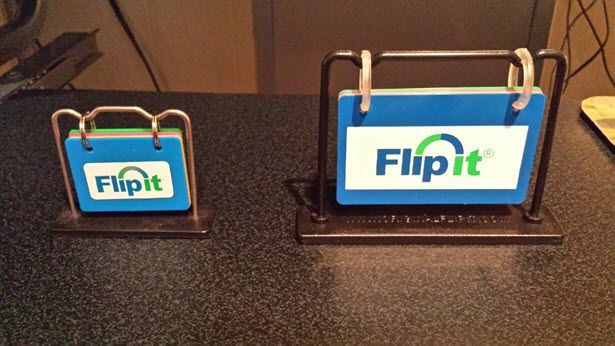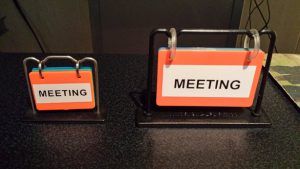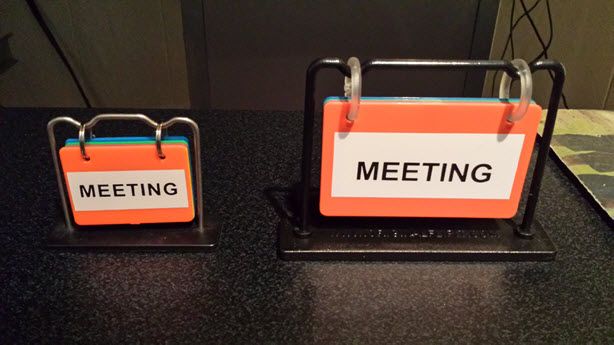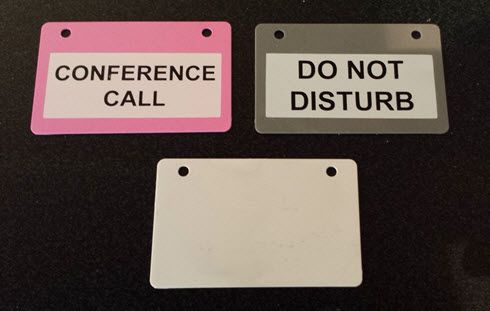 Tile Dimensions – 3 3/8″ wide x 2 1/8″ high
Shipping Weight – 4 ounces
Material – Non-toxic plastic
Visual indicator to notify coworkers of whereabouts.
Larger, more versatile tiles vs the Original Flip It
Whiteboard tile can be customized with personal message.
Tiles are removable.

If you are looking to purchase a truly useful and high quality cubicle and office accessory, Flip It, the 2nd Generation is a great example of a product that has been improved based on customer feedback. You cannot go wrong with this high quality office accessory!
Bob has been blogging for over 20 years and has been an office and cubicle dweller for more than 40 years. He created the popular office website CubicleBliss in January 2011 and rebranded it as WorkspaceBliss in April 2020. Over the years, he has been a regular writer for popular blogs such as DailyBlogTips and WorkAwesome (can read his articles here).
In the office he's been an IT Manager, Applications Engineer, Systems Analyst, Software Project leader, and Programmer Analyst in his long career. He's a Certified Microsoft Professional and possesses a Masters of Science degree and two Bachelor of Science degrees, one of those in Informational Technology.