I recently received an email from a reader whom I assisted with a cubicle consult after she contacted me a while back.
This article detailed the whole scenario from the original emails to the final images of her transformed office. Her name is Liz and she recently sent me some images of her new office after she received her promotion.
Obviously she is using some of the techniques that she learned from my book that I sent to her. She is now going with a minimalist approach which basically takes all of the clutter away from her new office. Here is what she recently sent to me. (Don't miss the additional image that she sent me of her new office further down in the article!)
Liz:
Hi Bob!
I hope you have been well.
Since taking my promotion, I have been in my permanent space now since mid-July and I thought I thought I would give you an update on my space.
I'm actually having a reverse effect on my new space – I don't want to clutter it up too much. I know there are a few items I would like to hang up but I have had aversion to bringing them in because I know I'll end up with then sitting or leaning without doing any much with them right away.
I am proud to say the "office" looks about the same since I took these pictures. I've added a few minor personal items (one picture on the shelf and one knick knack).
In ways of storage, I don't have anything in that far floor cabinet nor do I have too much in the three drawers next to it. Just the basics.
I have some papers in the overhead storage but even that is minimal. I know I need to go through them to reduce clutter in there.
There were some boxes left in the workspace by two prior occupants and one box I inherited that was kept by someone else in the office so they could pass it along when I arrived. Those are products for another day.
One item not pictured is the shelf I put up on the outside wall. It is the Fellowes Plastic Partition Additions Shelf, 4 3/4 Inch x 17 3/4 Surface Area, Graphite (7528101).
It holds a name plate that was made for me as a gift and a candy dish. I've had really positive comments about it! My co workers hadn't seen something like that before and were impressed to see it fixed to the wall. I wish I had know about it sooner. I would have liked it in my old space.
That's the update thus far.
Thanks again Bob!
Take care,
Liz
Here was my response:
Bob:
Hi Liz,
I love the minimalist approach! Keep up the good work. Do you mind if I include these new pictures in the other article just to give people a heads-up on your new workspace?
Is this the shelf to which you were referring that you have on your outside wall?
Best,
Bob
Here was her response:
Liz:
Hi Bob!
Thanks!
I do miss my "clutter" from time to time. But trying to keep things "minimal" in the new space.
Of course! Please do use the new pictures of the new space for an update.
Yes, that is the exact shelf I bought. I really like it.
Have a great weekend!
Take care
-liz
Well, without further delay here are the pictures Liz sent of her new office!
I must say that Liz has done an excellent job with her new office. It's heartening to me that I, first of all, could help her with her old office and now to see her new office looking in such great shape! BTW, I also asked her to send a picture of the shelf which I reviewed here and have had in my own office for many years. You can view it on Amazon here if you have an interest in getting one for yourself. It's great for holding pictures of my family and other small knick knacks!
If she sends me an image with the shelf I'll add it to this article. She uses it to hold her nameplate and a candy dish for her coworkers. It is affixed to her outside office wall and not within the office itself.
Well, Liz was true to her word and sent me some images of the cubicle shelf outside her office with her nameplate on it and a bowl of candy for her coworkers.
Liz's Cubicle Shelf Outside her Cubicle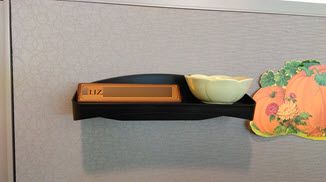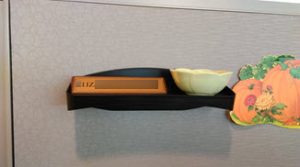 I hope you enjoyed this update on Liz's new office cubicle!