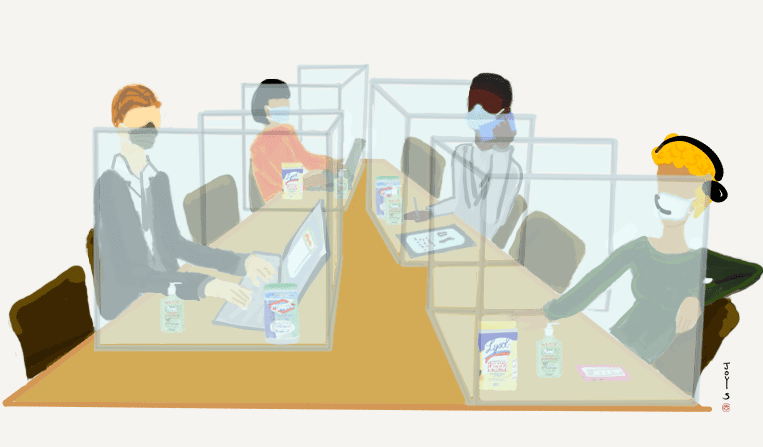 With states starting to open up their economies, how will this affect your workplace and, ultimately, the new normal workspace? Well without question, stark changes will have to be implemented, not only for the company to feel good about opening up their doors, but to ensure that their employees are safe in their offices.
Even before you get into the office what will an employee and the company have to do ahead of time?
Wear a mask or some sort of cloth facial covering
Will employers provide their employees with masks or facial coverings? It's hard to say at this point but I would imagine that there would have to be masks made available to employees who haven't yet purchased a mask.
And what about visitors to the office? There will certainly have to be an inventory of masks made available to those visitors before they enter the building. In compliance with CDC guidelines cloth masks should be used in the workplace.
Will gloves be an expected accessory?
There are varying opinions when it comes to gloves in the workplace. Obviously, if you are any type of healthcare worker, gloves are mandatory. But what about when you work in an office building?
The CDC doesn't recommend gloves, only cloth face coverings, for employees in a normal work setting. Gowns, masks, and gloves are recommended if you are involved in cleaning and disinfecting the workplace.
Companies are obliged to clean and sanitize office buildings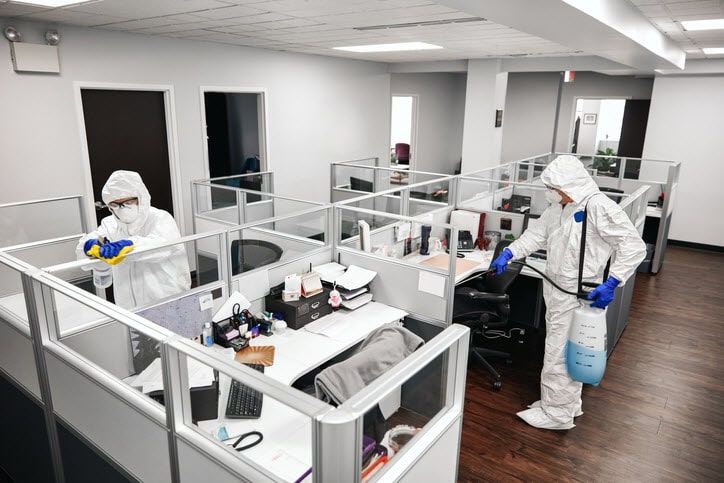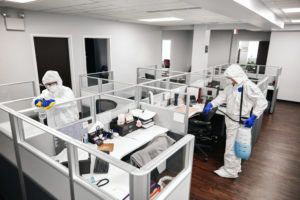 Even before an employee can step back into the office, companies will have to work with cleaning companies who can provide safe sanitation and cleansing of the workplace as it relates to the Covid-19 virus.
This will definitely be a mandatory additional expense to their existing cleaning bill. All companies must comply with this additional cleaning process or workers will be presented with an unsafe environment. In the new normal workspace, it will simply be the cost of doing business.
Entering your place of employment may look much different
At my company we have always had to utilize a key card to enter the doors of my company. This is only a security measure and certainly doesn't have anything to do with preventative health measures.

Now with potential infection, companies will have to implement stern measures in order to ensure the safety of its employees. Daily temperature screenings may become the norm at all companies. With those screenings comes the addition of a delegated employee to take those temperatures and decide whether or not the employee can continue into the workplace.
This bring the question of where the screenings will occur. If possible, a drive-through option may be the best alternative since the possibly-infected employee wouldn't even get a chance to enter the building.
Another possibility would be to screen the employee just outside the office door but that brings up the issue of weather. There would have to be an overhead canopy in order to take the tests during inclement weather. And what happens in the middle of winter? So, there certainly needs to be clear company guidelines that need to be developed and followed to screen employees even before they enter the building.

What about the new normal workspace?
New Normal Workspace
Open Office Modifications
In recent years, most companies have instituted open offices to foster communication within departments. I happen to think that they do not work. I feel that companies started to institute these open offices to save money and to be able to squeeze as many people as possible into a certain space.
Well, we all know that when it comes to Covid-19 a large group of people within a small space is a veritable breeding ground for the virus. As I wrote in this article about a potential cubicle revival, Plexiglas is a becoming a very popular product in this pandemic world.
I think that companies aren't going to start building cubicles again, especially the companies that already disbanded them. Instead, I think they may supplement the large tables that are featured in open offices with Plexiglas barriers probably placed and secured right on top of the tables.
The barriers would almost create a grid separating employees in the new normal workspace. They would mimic cubicles, in their separation, but they would be made of Plexiglas and wouldn't be free-standing.
You see plastic barriers in many settings these days such as in post offices, pharmacies, and at checkouts in food stores. I think that this is the most expedient and cheapest solution for companies that already have open offices. Some enterprising company may do well to develop this type of honeycomb grid out of Plexiglas that could be adjustable and placed on top of large desks in open offices.
Still Socially Distant
Even though there may be these new barriers in place on top of the large tables, I still think companies will attempt to maintain a 6 foot distance between employees, even in these Covid-19-remodelled open offices. It could be that 50% of the typical employee population will continue to work from home on a rotating basis.
Since there are limited advantages of open office workspaces especially in a socially-distant workplace, companies will have to step up and make some changes to account for potential virus transmission.
Even if you are still in a cubicle, it could be that companies will stagger each cubicle with an employee so that there is always an empty cubicle in-between each worker.  You could even add a door to make a cubicle private and more distant from co-workers.
Abundant Cleaning and Disinfectant Supplies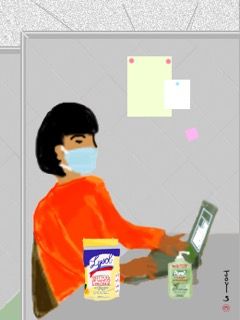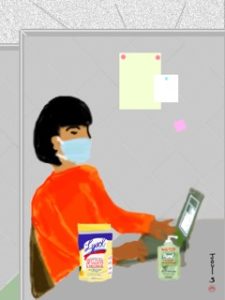 In the new normal workspace there will not only be a bottle of hand sanitizer at each employee's desk, there will be disinfectant wipes as well. Office cleaning supplies will need to be fully-stocked within each company's inventory.
According to the CDC, companies should purchase cleaning chemicals that have EPA-approved labels with claims against emerging viral pathogens. Each day, in the new normal workspace, might begin with employees wiping down their desks, keyboards, and phones. Daily routines will need to change to combat any potential infections.
Needless to say, working life as we have always known it will change. Covid-19 will be an issue until there is a vaccine. Until that time, companies and individual employees will have to be diligent in their practices to combat the virus in the new normal workspace.