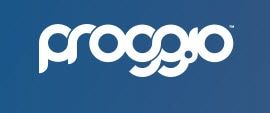 There are thousands of project management solutions out there. Some are Gantt chart based which is typical in a traditional project management styled application. Others are task management platforms with features for larger projects. Each has one or two things that make it different than the others, but by and large they're all pretty similar. It's rare that you find a solution that is truly different – but Proggio is exactly that.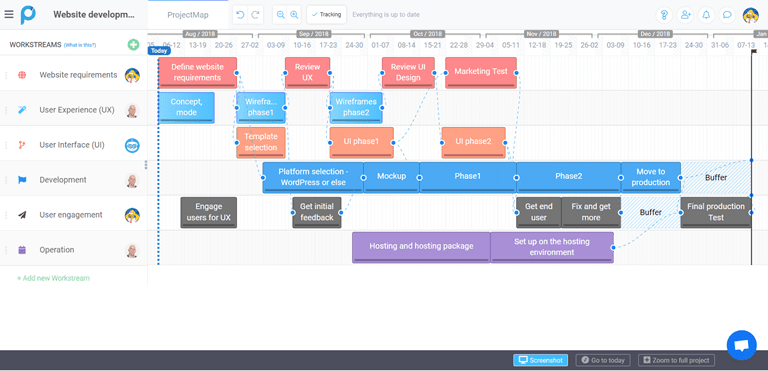 Proggio differs from the pack with its timeline. Proggio has a projectmap (seen below) which is a visual timeline that is more of a project blueprint than a simple time/task tracker, like the Gantt chart.

The projectmap gives you a clear understanding of the project and where it's holding progress-wise at a glance – whether you're a project manager, an employee, a customer, or the CEO. Like a blueprint, it is both a set of instructions and a guide for the people working on the project.
The projectmap builds project planning around the team, rather than the tasks. The Gantt chart lists tasks on the left hand side – it's just a list of the things that need to be done. The projectmap lists workstreams on the left hand side – it's mapped out by who is doing that work.
This is a small difference, but when you're managing a project, you know the question you'll be asking isn't "where is the project holding with the UI development?" It's going to be "Where are Peter and Amanda holding with the UI development?" Today's business environment is increasingly all about people. The success of a project is dependent on the people working on it – being able to plan, and manage, a project around the team is an advantage for getting to a successful delivery.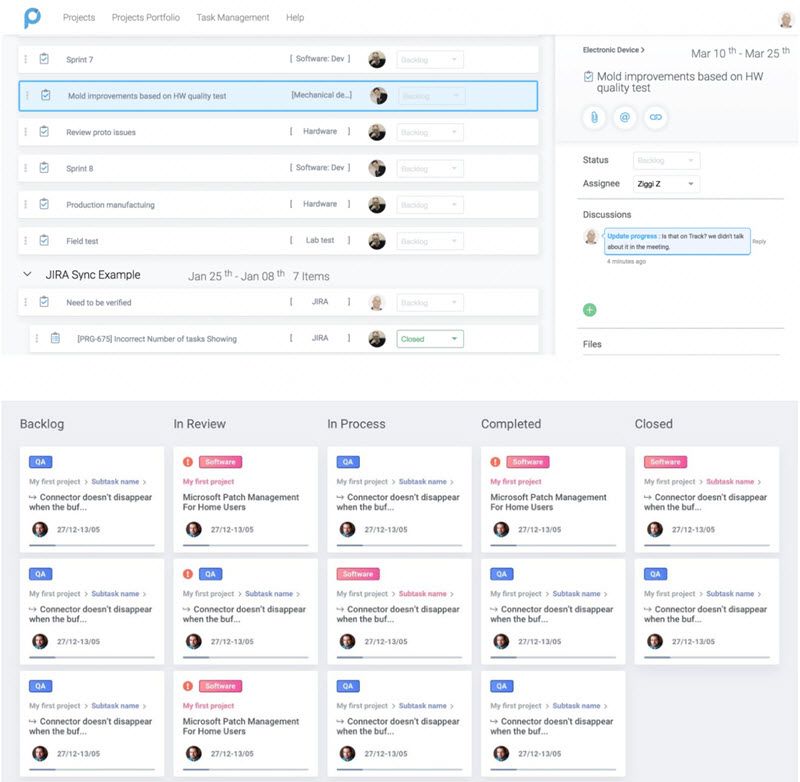 Proggio's suite of tools is comprehensive. The task management view (seen below) has both a list view and a Kanban board, with drag and drop capability. Simply move a card from one category to another, and the system updates every other view to reflect your changes.

There are communication tools built into task management, so the team stays on the same page instead of talking across five different apps plus email. You can track the project's budget, and your team's workload. There are loads of other features, and new ones are rolling out with each release, too. Proggio only costs $9 per month, per user, and requires no download. You can sign up for a 30 day free trial and take it for a test drive.
Proggio has an intuitive and visual design, a project planning system that acts like a blueprint, and builds your project around your team. You can sign up for a 30 day trial and give it a test drive…
AUTHOR BIO: A social worker by training, Steve managed one project at a non-profit and caught the project management bug. Steve combines his loves of social interactions and dynamics and project management at his current job at Proggio, in the customer success center and on its social media accounts.