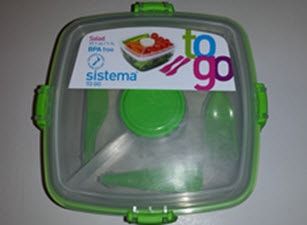 I don't know about you but I'm a pretty conservative guy when it comes to spending my hard-earned money. That is why about 95% of the time I bring a lunch to work. It is a heck of a lot cheaper and I actually know what I am eating when it is prepared in my home and brought to work.
I wrote about one of my favorite food-related cubicle accessories, my CrockPot Lunch Warmer, a while back and I use it a lot to heat up a hot lunch in my cubicle rather than using the gross company microwave. I also have a really cool portable mini refrigerator that I simply could not live without! I think it is my #1 cubicle accessory! They were both featured in my very popular article entitled 4 Cubicle Luxuries that will Enhance your Working Life.
Well, recently I picked up a Sistema Klip It 37-Ounce Salad to Go Container so that I could conveniently bring in a salad either as my sole lunch or as a side dish to a hot lunch heated up in my food warmer. There are many different types of specialized food containers available today that certainly weren't around years ago. This is the age of specialization and the area of food containers has certainly not gone untouched.
What is so neat about this Salad To Go container is that it comes with a plastic fork and knife (come in two pieces each and snap together) that are included in the container as well as a convenient small plastic cylinder in which you can store your salad dressing. Being able to add your salad dressing right before you eat the salad ensures that it is a fresh salad and not soggy from sitting in the dressing overnight or during the morning hours before lunch. This container has assisted me in eating a healthier lunch and I don't have to carry separate containers for my salad dressing and my salad. Not to mention that the convenient fork and knife make it so much easier to take this handy food container anywhere that you want a healthy lunch.
There's also no reason why you can't bring a piece of lasagna, pasta, rice with chicken, or basically anything in this container even though it is called a Salad to Go Container. Check out some of the detailed images of my Sistema Salad to Go Container below.
Images of my Sistema Klip It 37 oz Salad To Go Container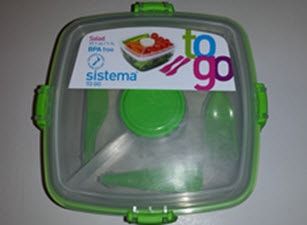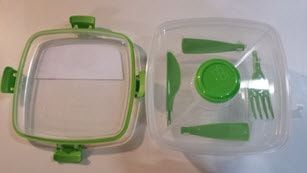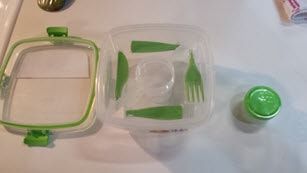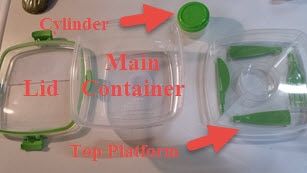 Check out my Sistema Salad To Go Container in Action!
As I mentioned earlier in this article, I love my Crock-Pot Food Warmer and you can see above where I am using the fork from my Sistema Salad To Go Container with my food warmer. The metal container shown is the actual inside container that goes into the Crock-Pot Food Warmer. What's so great about these containers is that you can leave the food warmer in work and just bring your container home and fill it up with your next meal. With the meal shown above I had chicken and potatoes warmed up in my Crock-Pot Food Warmer and a healthy salad in my Sistema Salad Container – my Power Lunch!
Here are some more details on the Sistema Salad Container.
Features of the Sistema 37 Oz Salad To Go Container
Product Dimensions: 6.5 x 6.5 x 3.3 inches ; 6.9 ounces
Shipping Weight – 1 pound.
Comes equipped with solid plastic fork and knife within unit.
Made from BPA free Virgin Polypropylene.
Dishwasher and Microwave-safe.
Freezer-safe.
4 clips guarantee an air-tight seal.
If you think you want to start stepping up your luncheon menu with a fresh salad, this Sistema Klip It 37-Ounce Salad to Go Container could be a great addition to your kitchen and office. This unit is also great for packing a salad for the beach or the job site. I'm really enjoying using mine as you can see in the photos. If you'd like to check out some other specialized food containers you can click here. As usual, if you have any questions at all, please don't hesitate to leave a question in the comments.