Do you remember the good old days when your computer monitor occupied the whole corner of your desktop? Well, that was then and this is now!
Flat panel monitors used to be very expensive and companies wouldn't invest the money for the ordinary worker like you and me. It was only the VP or President of the company that got the fancy flat panel display only to show it off proudly sitting behind their expensive cherry desk.
These days you can only buy a flat panel monitor for your office and if you see the old monitors, it is more of a shock than the norm. In fact, when I go to my local neighborhood recycling center it's hard to come by the old box-like computer monitors since they are so far out of touch.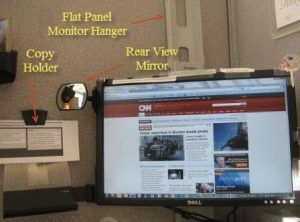 With the popularity of the flat panel computer monitor has come a myriad of computer accessories, three of which can be seen in the image to the left from my office cubicle (click on it for a larger view).
As you can see, I have joined the bandwagon and have purchased my own set of accessories for my flat panel monitor and I love each one!
The first one that I purchased was a Kensington flat panel monitor cubicle hanger that I wrote about in this article. You can see it behind my monitor in the image to the left. When I first saw one in an office catalog I knew it would be a perfect solution for my office cubicle. I am always looking for ways to maximize the space in my tight office and I figured that the corner of my cubicle behind my monitor wasn't being utilized at all. With a limited amount of desk space I always want to make sure that I use every inch of real estate effectively. I also didn't like the fact that it was difficult to clean behind my monitor when it was on a stand. Now it's no problem at all. And cable management is also not a problem due to the nifty cord slots in my desktop.
Another flat panel monitor accessory that I recently purchased was an iViEW Rear View Computer Monitor Mirror that I wrote about in this post. You can see it attached to my flat panel monitor in the image above. I must admit that after using it now for a few months, I love it! This product has also been one of the most popular products on this site and I'm really glad that others have decided to purchase this very reasonable mirror through my recommendation.
It's great that others are taking advantage of a small, but very effective office item. People actually get spooked when I have my back turned to them and greet them by their first name. I have the proverbial eyes in the back of my head! There are many different versions of this product that are detailed in the article referenced above but this particular model works great for me.
Another accessory for my flat panel monitor that I use every day is called a 3M Flat Panel Mounted Copy Holder. I wrote in detail about this versatile product in this article which will also show you how to mount it on your flat panel monitor. You can also see this copy holder labeled in the image above. I use mine to hold paperwork that is associated with whatever project on which I am currently working.
It will hold a journal,manual, or stack of papers since it has a lip at the bottom or it will hold a single piece of paper since it is also equipped with a clip at the top. You can see how versatile it is. It mounts easily to the side of your flat panel monitor or, if your monitor is too thin, it will easily mount to the back of the monitor. The fact that the arm swivels is what allows you to attach it to the back of the monitor if need be.
Various Highly-Rated Computer Accessories for your Office Cubicle
(Click on any of the images below for more details)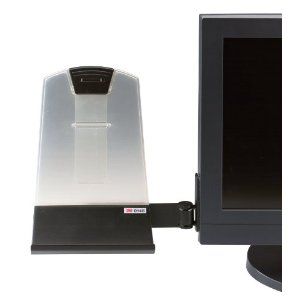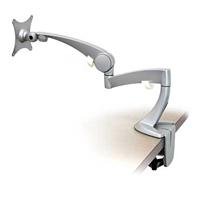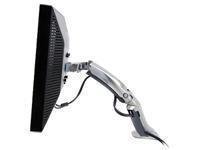 The Ergotron Arm seen above is designed for heavier displays.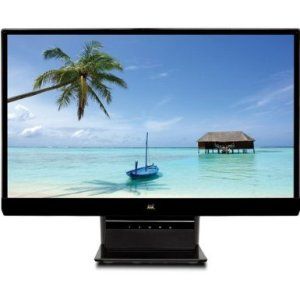 The options that you have today for not only flat panel monitor accessories but computer accessories in general are numerous. Do your homework and read the reviews. That's what I do before I buy anything online or in an office catalog. Take advantage of what others have learned and buy what works for your needs. If you have any questions at all about the flat panel monitor accessories I discuss in this article feel free to leave a comment or send me a message via my Contact Me page.