As I have said many times before, running this blog and website allows me to connect with my readers and hear about their working lives.
I've actually done a number of cubicle-related consults at no charge to my readers because I simply want to help them out to make their working lives better.
Just last week I heard from another reader, Jenny from Texas, who has undergone quite a massive downsizing of her department and of her cubicle environment. Here is what Jenny wrote:
I've recently experienced a physical downsizing at work, not only of my cubicle but my entire department. We are packed in like eggs in a carton. Not only has our square footage been reduced, but making it work means reducing the cubes, desk surface area, drawer and shelf space, and wall height as well. My old cube had 5' tall walls with lots of metal, so magnets were my "go to" tool; new walls are 3' with wood frames. Even if push pins could take the weight the magnets took, I no longer have the wall space I had. I went from 5 file drawers to one, from 3 deep shelves to 2 shorter, shallower ones.

In preparation for the move I went through my paper files and trashed all but the most necessary, found documents online and bookmarked them, and scanned the rest. Before loading up the computer, I went through it, deleted unnecessary files, updated others, and organized what was left.


My desk has to hold a laptop computer, a landline phone, the requisite pencil can, pad of paper, box of tissues, and paper calendar (my preference) I am a cataloger in a library so I also need a small flat screen TV, Blu-ray player, and a label printer for books, DVDs, CDs and Blu-rays.
Jenny's spacious department space prior to the downsizing
(Click on any image for a larger view)
Jenny's cramped department space after the downsizing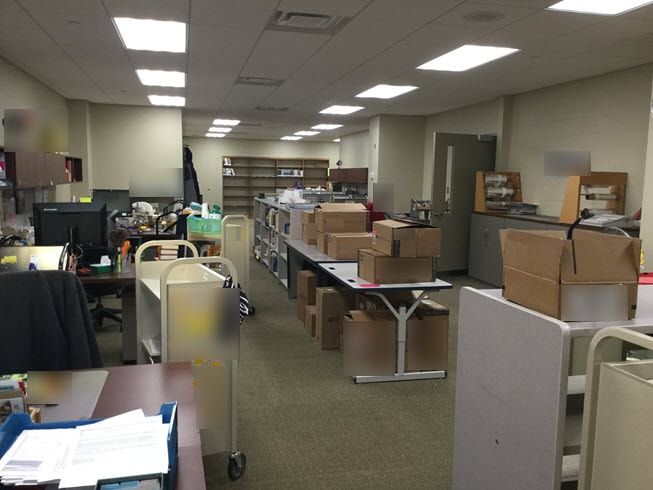 Jenny's spacious cubicle prior to the downsizing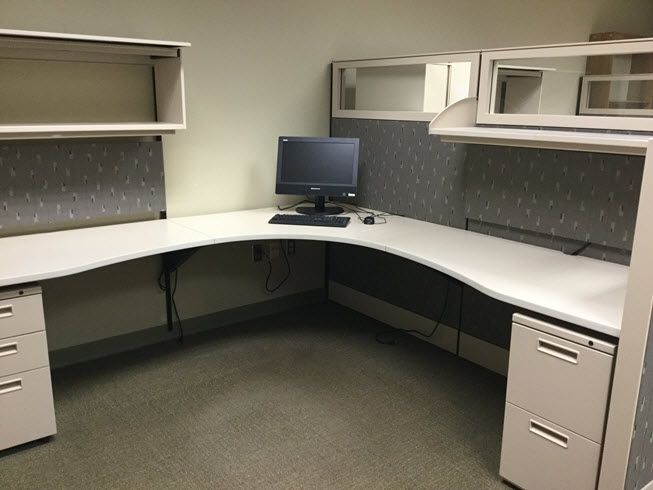 Jenny's cramped cubicle after downsizing
(Click on any image for a larger view)
As you can clearly see Jenny's life in the office has changed drastically. It appears that new management has sent an edict that there will simply be less space for her and her coworkers to do their jobs. With the new digs Jenny is looking for a minimalist approach because she really has no choice in the matter. Less space has been forced upon her.
Here is my response to Jenny's initial email below.

Hi Jenny,
Thanks for your clarification and I feel your pain. Do you still have fabric cubicle walls? You did mention that the walls were 3′ with wood frames but what is the material of the actual wall? Oftentimes I write about organization within a small space. Here are some resource links below that you can look into from my site, CubicleBliss.com.

Cubicle Storage – Top 10 Awesome and Unique Solutions
20 Nifty Small Office Organization Ideas
Articles related to Cubicle Storage
Articles related to Office Organization
She subsequently thanked me with the following response.
Hey, Bob,
I'll see what I can do about sending some photos. In the meantime I have looked at your attached articles. Regarding the GLCon tower power strip and the cubicle bowl, all I have to say is Thank you!
Jenny

Have you experienced a similar downsizing in your job as Jenny has in hers? I understand that the open office has become more popular over recent years but in Jenny's case she is still in a cubicle environment, only a much smaller area in which to work. Any comments would be appreciated.