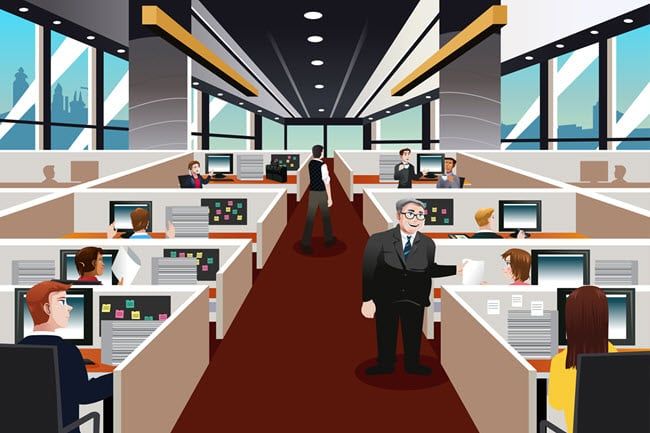 One of the most gratifying aspects of running this site CubicleBliss.com is that I get to share my expertise with others who ask for my help. I recently assisted a reader with organizing her cubicle. Further down in the article are the actual emails that were shared but here is a quick synopsis that my reader – Liz, recently sent to me breaking down the consult. (Don't miss the before and after images further down in the article.)
Liz's breakdown follows:
Background
I originally contacted you after finding your blog via Pinterest and you got my attention since my workstation is a cubicle set up. I asked if you would be willing to do a consult as I was wanting to fresh up my space and make it more accessible for me. I sent you some pictures of my work area (scroll down for images) and you were very generous in sending me a copy of your Ebook – Size Doesn't Matter – 10 Steps to Being Organized, Productive, and Happy in a Small Office to help me get started.
The Reorganization
What originally was a general inquiry to get tips on cleaning up my workspace lead to cleaning out my office out of necessity like you outline in your first chapter "Clean like you are leaving he company". That resonated with me because while I was taking an internal promotion that meant that I would be moving from our divisional office to our headquarters. And I had to clean out my space because someone else would be able to move into that spot to fill my vacancy.
The Cleanup
I found that I needed to come into the office after hours (weekend) to do the majority of my clean up. It allowed me to not have the distraction of my daily work tasks but also allowed me to concentrate on what I wanted to keep or get rid of (Chapter Two: Purge/Assign a home). I took home things like pictures and knickknacks, I recycled much of my paper after scanning what I wanted to save for reference. Other outdated items were directly purged to recycling and any sensitive items were shredded.
The Transition Time
There would be a few more weeks before I would move into my new role with the organization, so I still needed to keep items related to do my prior role. Here I made sure to only add back the most basic items I would need while working for my remaining weeks (e.g. Pens, envelopes, sticky notes). It really helped me see that I could still function with the most basic items and not clutter my drawers with supplies just to make it convenient not to get up to access the supply room.
The New Space
I can say that I have only brought in minimal items into my new space. The first was a plant given to me by a coworker as a departing gift. I have a added a few items that I need to my new role which is mostly pens, highlighters and legal pads for note taking (I participate in many more meetings than I did previously). I also use it to make notes for myself for upcoming projects to myself and any general questions I have that I would need follow up to. I also have a basic personal calendar on my desk.
While I miss some of my personal pictures and knickknacks from my prior I know that I will have to remain strategic to what I want to bring back into my permanent space. Other fun items I would like to add is a single brew coffee maker you have reviewed in your blog and in your ebook. I am big coffee drinker and I know that is something I would enjoy a lot. Other items I know I will benefit from are the general space maximizing items you suggest, like the desktop organizer, hanging wall shelves, desk shelves.
Conclusion
Bob, I bet that my prior space probably raised your resting heart beat when I sent you my pictures (scroll down for before images and after image). While I liked having many personal items available to me (pictures, knickknacks) I know that all the other work items also filled the space (since my prior role dealt with a lot of paper at any one time). I hope to get a few pictures of my permanent space once I get moved in. For now I am in my temporary space and getting used to the minimal aspect of the workspace for the time being. Thank you again for all your feedback and generosity with this project.
Here are the actual emails that went back and forth between Liz and me:
Well, back in March I received a glowing letter from one of my readers named Liz asking me for some help.
Liz:
Love your blog! You have a lot of great tips and recommendations, I have to wait till pay day to rush out and buy all these new org gadgets.
General question, do you do cubicle consultation?
I have been in cube land for about 3 years and in my my current space for about a year and would love to reorg, but just have a hard time getting started/where to start. Would love to have your input. I'm happy to send pictures!
Bob:
Hi Liz,
Thanks for your kind words about my blog. I do some small consults with people I work with and some readers. I won't charge you anything at all. All I ask is that you join my mailing list so that you can receive weekly updates. I might also ask you to spread the word about my blog. I was featured in an article in US News and World Report – 10 Easy Cubicle Upgrades(I am mentioned in #6 and #9) so the word is getting out about my blog.
For the consult, just send along some pictures of your current office. I won't publish anything on my blog if it is against your company policies but I need to see what I'm working with. Have you read this article? It highlights many of the cubicle accessories that I currently utilize. Since my cubicle recently moved (within the last couple of months) I thought it was a great time to do a before/after. Maybe we can do the same for your office. I assume it is a typical cubicle?
Liz:
Thank you Bob!
Just signed up for your mailing list. I also read through the articles you provided. I'll try to get you some pictures this week. Yes, it is a basic cubicle style.
Looking forward to working with you!
A few weeks later Liz sent along the following pictures which showed just how much she needed my help in cleansing her cubicle from the mess that had accumulated over the years.
After viewing the disaster that was Liz's cubicle, I thought that there wasn't one thing that I could tell her that would fix her office. I thought she needed to start from scratch and totally cleanse her office in order to resolve her hazardous office environment. So, I decided to send her a pdf copy of my Kindle ebook which is called Size Doesn't Matter – 10 Steps to Being Organized, Productive, and Happy in a Small Office.
Here was my response to Liz after viewing her office:
Bob:
Hi Liz,
Wow. There is so much stuff in such a small space. First of all, I have a few questions for you.
Do you thrive in this cluttered environment? Some people actually have no problem with a messy desk and can find exactly what they are looking for in an instant no matter how cluttered the environment.
I assume you would like to have a less cluttered desktop and work area?
Instead of asking more questions right now, I have attached a pdf version of my Kindle e-book that I sell on Amazon. This is a free version because you deserve it after contacting me for help. I think it's very important that you read the 1st 3 chapters that deal with cleaning out your existing environment, purging, and only keeping what you really need. To be honest, I would go nuts if I had to work in such clutter. I think you also have to ask around to see if you can move any of the clutter out or just throw it out.
Until you take these steps and send me pictures after you have taken those steps, there really isn't too much I can suggest. So read at least the 1st 3 chapters and get yourself some boxes and start cleaning out your work area to the bare essentials. If you don't want to throw stuff away, bring it home until you can decide what to do.
Once you have done this in your drawers, desktop, and try to consolidate some of the pictures that you have hanging, send me some more pictures after you have taken those steps. Try cleaning out under your desk as well. If at all possible, try to move the printer out from under your desk to another area. Maybe you have an IT person who could help you out.
So your homework assignment is to read at least the 1st 3 chapters and ask questions if you need to. I'd like to see you take the steps that are in those chapters and then send me what your office looks like afterwards. Once you have purged you will have a clean slate from which to accessorize. Please don't hesitate to ask questions along the way. I know it's not easy but I'm here to lean on and ask questions. 🙂
A few weeks later I heard back from Liz with the following email and picture.
Liz:
Hi Bob!
I have been meaning to email you. Things ramped up at work and personal after I emailed you.
I recently was able finish your ebook. I really appreciate your generosity! I enjoyed it and implemented your clean up tips because since I last emailed you I had to clean out my workspace due to promotion.
I purged a lot, scanned any documents I wanted to save for reference and took home quite a few bags of items.
When I first emailed you it was to just better organize my space since I am limited on real estate, but since the promotion it was a necessity. I'll be moving to our headquarters (which is a new building for me entirely).
Hopefully this will give me a fresh start to implement your tips and keep my new space leaner. I really want to get your recommended monitor organizer.
Here's my space cleaned up!
Thanks!
Liz
The difference in Liz's workspace was dramatic and I was really glad that I could help her out. Believe me, all I supplied her with are some tips and direction in cleaning up her office space. She did the rest! Congratulations Liz on the upgraded office space and thanks for asking for help!
If any of you are struggling with organizing your own office space feel free to contact me via my Contact Me page or email me directly at bob@workspacebliss.com.