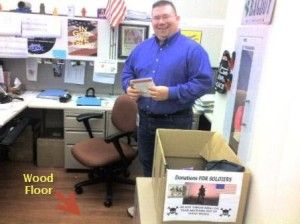 People who are extremely passionate about their work spaces are a rare breed. I am a self-professed fanatic when it comes to making my work space as homey, organized, and comfortable as possible. A while back, I received an email from another cube lover, Steve Clark, who mentioned that we both had something in common.
He told me about a website that he recently started that is entirely focused on selling office and cubicle products. The site is called CubeStuff and Steve told me that for years he has been passionate about the environment in which he works. He also mentioned that one of the main reasons that he created this website was because in the past it wasn't easy for him to be able to find cube-related products all in one place. If you look closely at the image above Steve actually installed a wood floor in his cubicle at work at a previous company. I'd say that is certainly being passionate about a work space!

So, as a result, he created CubeStuff and the site has been rapidly growing in popularity. Steve recently sent along some of his top-selling items and asked me to take a look at them and possibly review them on this site. I told him that it would be fine for him to send along some of his cube stuff (pun intended) and I would show them off on this site. (Don't forget to use the discount code found at the end of this article.)
Full Disclaimer: I have no affiliation with Steve Clark and his website. He is a friend who has a similar passion as I do. If you click on any of the links associated with Steve's website in this article, I will not receive any compensation whatsoever from Steve for showing them off on my site. I just wanted to let you know that this really cool website called CubeStuff is out there if you want to drop by and check it out.
You can check out some of the items that he sent me below.
Cube Signs
The CubeStuff Cube Signs are a big seller on his site and I can see why. They are solidly built and, as you can see from the images below, it is simple to clip onto the top of a cubicle wall. The cubicle walls at my place of employment are exactly 2" thick and this product clips on easily for that thickness or less. The great thing about this product is the many different extremely sturdy hilarious signs that are available and, of course, you can make your own signs to attach to this clip if you like. If you're interested, I write about another very popular out-of-office indicator called Flip it in this article.
There are many more Cubicle Signs that are available on CubeStuff.com. They even have a line of holiday-related signs that may pique your interest! Check out all of the different CubeStuff Cubicle Signs here!
Cell Phone BeanieBag Chair
I wrote about a particular type of cell phone holder in this article and the BeanBag cell phone holder from CubeStuff is a miniature replica of an actual bean bag. As you can see from the images below a standard cell phone will fit into this chair easily. And the fact that the cushions are pliable I would imagine any size of cell phone will fit into this chair perfectly.
There are also a number of different colors from which you can choose. You can check them out here.
Mug Boss
This is a replica of a tool bag that typically fits onto a plastic bucket. In fact, I recently saw the tool bag version that my electrician was carrying around. This much smaller version fits perfectly into any size coffee mug and from the images below you can put pens, pencils, markers and whatever you like into this MugBoss holder. It's a great gift for the DIYer in your family or anyone who uses tools for that matter.
You can check out the Mug Boss on CubeStuff.com here!
I haven't even scratched the surface of the multitude of products available for your office on CubeStuff.com. So, if you are looking for some really cool top quality office accessories for yourself or as gifts for family and friends, drop by CubeStuff.com. It's a really fun site to visit!
Steve Clark has also been nice enough to offer a discount to my readers. Just use the coupon code bliss at checkout to receive 10% off of your entire order!