Being organized is a key factor in my home life and in my working life. Because of this fact, I am always looking for physical products such as organizational cubicle accessories or free productivity software that can help me stay focused at home or at work. (Click on Image Below for Larger View)

Recently, during a staff meeting with my boss at work, he pulled up a web page, Trello.com, as he was giving an informal presentation to the attendees. I found it intriguing because what I saw was a way to keep track of short-term and long-term goals using a Pinterest-like board management personal free productivity software. After using it for about 6 months now, I love it and want to share with you the reasons why I think so!
1. It's Free!
Yes, there is NO COST to using this software. If you're looking for value, this is great value! You can start using it right away to help you get on track and focused. And since it's free, there is no reason to at least not try it out and see if you like it. I started small with my work items and then expanded and created other boards related to my home life. My boss has a board called Honey Do list that I'm sure his wife keeps updated for him!
2. Can Use Google Login
These days a lot of us already have a Google account. Well, with Trello, you can log in with your Google account or, if you don't have a Google account you can create a Trello account. Being able to use my Google account, just made using this application a lot more user-friendly for me. I get tired of having to create new usernames and passwords for different applications or websites.
3. No Installation Required
Apart from Trello being free, I think this is my favorite aspect of the software. No matter where I am located, as long as there is an internet connection, I can view my boards, update them, and create new cards associated with my boards. I have a Netbook, a work laptop, and a work station in my home office. It's nice not to have an installation that I have to keep updated on all my computers.
4. User-Friendly Pinterest-Like Board Interface
I'm not sure if you use Pinterest or not but I do (click to see my Pinterest account). Pinterest has the ability to create different boards of images associated with anything you want in your life. Trello is similar but you aren't creating cards on each board of images (although you can add images), but of text and lists which you want to track. You can easily move cards from one list to another just using drag and drop and move them up or down the list depending on your preference.
5. Share Boards to Manage Projects
Another great feature of Trello which I have yet to utilize is the ability to share boards with other Trello users. This can be great if you have a project you are working on with others. You can update the shared board which will instantly be visible to other members of the team who share that board.
Even on a personal level, if you and your spouse have a project you want to tackle you may split it up into various cards or lists and you can each update your items.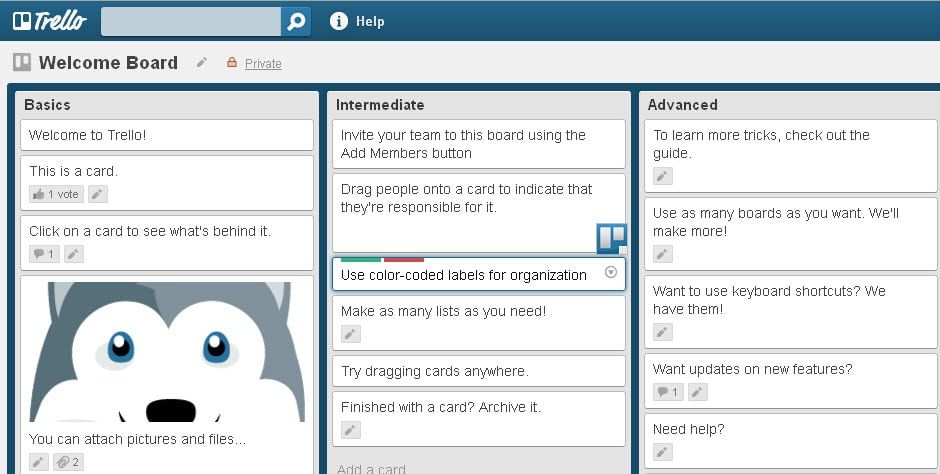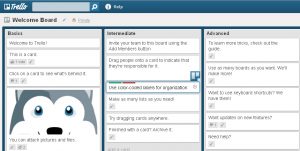 Maybe you want to create a board called Wedding List that people can look at to see what you need or what other people have already purchased. Another great way to use Trello is to plan a party. Each person who can see the party list board can see what items have been bought or what has already been planned for the party. It is really limitless on the uses that you can imagine for sharing your Trello boards.
These are only a few of the features of Trello and I must admit that I have not even scratched the surface of what you can do with this free, internet-based technology. One thing I do know is that they are constantly updating this application all the time and you can even request changes to be made that could benefit you and others.
Maybe you too should become one of the many happy users of Trello free productivity software for your work or personal life. I did and my focus on short-term and long-term goals at home and at work has been greatly improved and so has my productivity. I have no affiliation with Trello other than I am a happy customer! Click here to check out their Welcome Board. It will give you a lot of information to get you started with Trello!
If you do check out Trello, or have been using it for a while, I would love to hear from you in the comments how you are using this home or office productivity software. I'd like to hear more about features which I am not using and what you feel are your favorites…