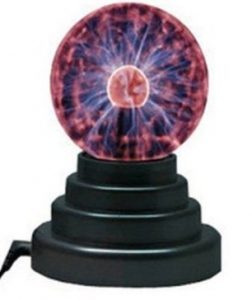 Sometimes you just have to add some levity to your cubicle and I did just that recently with my brand new USB plasma ball.I'm really big on office organization but I certainly understand the need for fun desk accessories.
The working environment can sometimes be stressful and it is office items like this one that helps reduce that stress of a long working day.
This fun cubicle accessory comes exactly as advertised. It is powered by my computer simply by plugging the cable it comes with into my computer's USB port. You can also use this cool plasma ball in your car if it has a USB port which is not unusual in newer vehicles these days. You can also buy an adaptor for your lighter that converts it into a USB port.
Click Here for a Great Price on this USB Plasma Ball
This is a great gift for anyone from a small child to a senior citizen. What is so special about plasma balls is that when you touch the outside of the glass with your fingers the beams of light will follow wherever your fingers are located. This is such a unique phenomenon that plasma balls exhibit which is what makes them so special. It is almost like it is a living, breathing product.
Check out some of my own images of my USB plasma ball
(Click on any of the images for a larger view)
Features of the USB Plasma Ball
Great special effects. Great for office, car, or home.
Plugs in easily to your computer's USB port.
The beams follow your fingers.
Perfect gift for the boss or co-worker.
USB Powered Only, AC with use of adapter (Not included), not battery operated

If you are looking for the perfect gift, this USB plasma ball will delight anyone who receives it! Fun cubicle accessories can make the long work day a little more palatable. You can pay a whole lot more for a plasma ball but this one is a great value. If you'd like any more information on this item please don't hesitate to leave a question in the comments or use the Contact Me page.