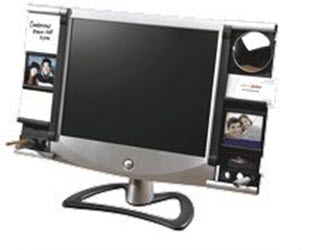 Cubicle accessories are unlimited in the office marketplace these days. Specialization in all aspects of home life and work life can be found online and in specialty brick and mortar stores.
The Aspect Monitor Accessory Frame that is featured in this article certainly would not have existed years ago. I found this item online as I find most of the office accessories that I feature on this site. I find it a lot of fun hunting for items that I can review and utilize in my own office cubicle as well as my home office.
This is an Aspect Right Side Monitor Frame but they also sell a Left Side Monitor Frame if you prefer this accessory on the left side of your flat panel monitor. I purchased the right side version but I could pick up the left hand side to add that much more versatility to my office. I bought the right side version because I feel that my eyes naturally look right rather than left. It's just a preference of mine but that may not be yours.
So what exactly is an Aspect Monitor Accessory Frame? It is an attachment for your flat panel monitor that includes 5 different re-positionable snap-in accessories. Those accessories include a Dry Erase Board, Post-it Note Holder, Convex Mirror, Business Card Holder, and Picture Frame. If you view the YouTube Video here you will see it in much more detail.
Full Product Dimensions – 3.5 x 11 x .75 inches, expandable to 14 inches
Product Weight – 8 ounces
Color – Black with Silver Trim
Attaches to side of flat panel monitor.
Includes 1.dry erase board, 2. Post-It Note holder, 3.convex mirror, 4. business card holder, and 5. picture frame
Includes pull-down shelf, paper clip tray, and pen and pencil slots

This Aspect Monitor Accessory Frame is just another cubicle accessory that could give you a nice little upgrade for your office. I love the picture frame to show off my kids and the small dry erase board works just fine for some small notes that I need to remember throughout the day. I also really like the versatility of being able to mix and match the different accessories depending on my mood. And as far as having a place to hold my Post-it notes, from this article you know how much I love my Post-it Desktop Organizer.
If ya have any questions at all please leave them in the comments.