As I've said before on the pages of this site I love wireless technology! I've written about a number of wireless products that I use on a regular basis such as my AYL Bluetooth headphones, Logitech Wireless Keyboard, and my Logitech Wireless Mouse.
Well, I recently received another wireless product from my boss over the holidays – the Samsung Wireless Charging Pad. I'll tell you right off the bat that I love this wireless charging pad! (If you have an iPhone scroll to the bottom of this article for iPhone-compatible wireless charging pads.)
So, let me get this point straight, you need to plug the charging pad in but when you place your cell phone on top of the pad it charges automatically with no wires between the phone and the charging pad. If you have a Qi-compatible Samsung Galaxy device, such as a Samsung S7 like I do, it works like a charm.
One of the things that I always have to check when I was charging my phone in the past was if the plug was in the right way. With a Samsung, unlike an iPhone, the plug must be inserted properly.
With the Samsung Wireless Charging Pad you just have to insert the charging plug once into the charging pad and then you'll never have to insert it into your cell phone again because of the wireless charging.
(Click on any image for a larger view)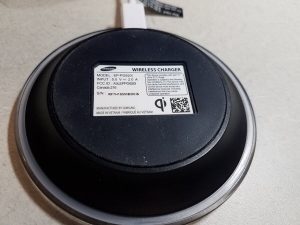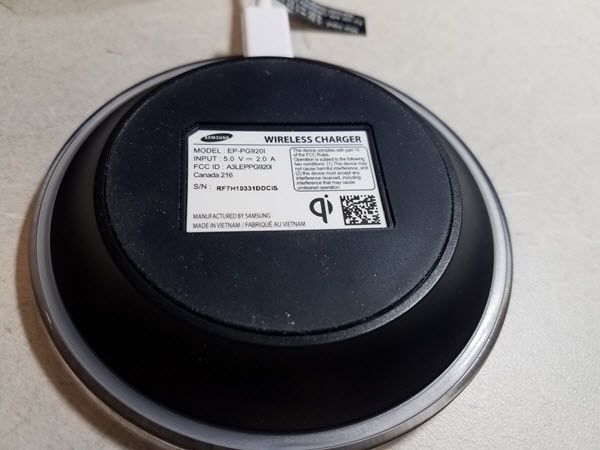 Product Dimensions – 4.2 inches diameter, 1.8 inches thick
Item Weight – 3.52 oz
Shipping Weight – 7 oz
Color – Black Sapphire
Item Model # EP-PG920IBUGUS
Cable-free charging for compatible Samsung models and other Qi-compatible devices
Still operates through an OtterBox or other phone cover.
Unit stops when fully charged.

If you think you could use a Samsung Wireless Charging Pad at home or in your office, I don't think you can go wrong. This is a gadget that is not only really cool but it's also extremely practical. No more will have you have to mess around with inserting the charging plug into your phone. Once you go wireless you'll never go back!
If you own an iphone there are some similar options below.
Check out some iPhone-compatible charging pads below
If you have any questions or comments you can leave them in the comments below or use my Contact Me page!
Bob has been blogging for over 20 years and has been an office and cubicle dweller for more than 35 years. He has been featured in numerous online publications such as US News and World Report, Bustle, and Work Awesome (you can read his articles here). He created the popular office website CubicleBliss in January 2011 and rebranded it as WorkspaceBliss in April 2020.
In the office he's been an IT Manager, Applications Engineer, Systems Analyst, Software Project leader, and Programmer Analyst in his long career. He's a Certified Microsoft Professional and possesses a Masters of Science degree and two Bachelor of Science degrees, one of those in Informational Technology.
During his career he has worked in the office full-time, as a hybrid remote worker, and has worked from home permanently.