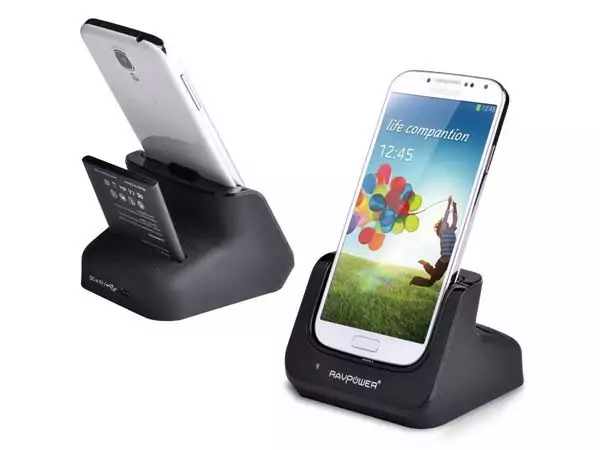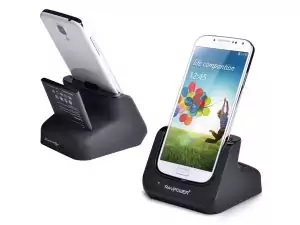 If you own a smartphone, as most of us do nowadays, you certainly know the value of a good phone charging cradle. Unless you have a flip phone, you know how often that you have to charge your smartphone's battery or you have invested in an extra battery or two that you can plug in when needed (assuming you own an Android).
Up until recently, I only owned a conventional phone charger. But since I got my Desktop Charging Cradle, I have certainly upgraded my charging capabilities. I love being able to have my phone inside a cradle that sits right on my office desktop. This one is for Samsung models but 3 highly-rated iPhone charging cradles can be seen further down in article. I love my phone and a while back I purchased a Satechi car cell phone holder that I wrote about in this article and I use that every time I am in my car. It pretty much allows me to be hands-free within my car when I am also using my Blue Ant Q3 Smartphone Earpiece. Hands-free is now a law in the state where I live.
Here's a youTube video I created of a dual desktop charging cradle I purchased a while back when you could have a backup battery for my Samsung smartphone.
Full Product Dimensions – 4.5 x 3.9 x 3.2 inches
Product Weight – 7 ounces
Color – Black
Compatible with Samsung Galaxy S IV / S4 GT-i9500 Android Cell Phone
3-in-1 Feature: USB Sync and Charge Cradle Desktop Charger with 2nd Battery Charging Slot.
First slot: Sync and charge phone. Second slot: Charge 2nd battery.
Case Compatible design cradle; Sync & Charge either enclosed in a protective case or without.
Contents: Cradle, USB Cable, AC Adapter.Phone & extra cell phone battery not included.
Here are some charging stations for iPhones
So, if you too want to have a stylish phone cradle at your fingertips on your desktop, this Desktop Charging Cradle is certainly an outstanding value. You can pay more, but why bother with this fully-functional phone charger which will give you the additional feature of charging your backup battery. If you have any questions or comments please leave them in the comments section or use my Contact Me page.
Bob has been blogging for over 20 years and has been an office and cubicle dweller for more than 35 years. He has been featured in numerous online publications such as US News and World Report, Bustle, and Work Awesome (you can read his articles here). He created the popular office website CubicleBliss in January 2011 and rebranded it as WorkspaceBliss in April 2020.
In the office he's been an IT Manager, Applications Engineer, Systems Analyst, Software Project leader, and Programmer Analyst in his long career. He's a Certified Microsoft Professional and possesses a Masters of Science degree and two Bachelor of Science degrees, one of those in Informational Technology.
During his career he has worked in the office full-time, as a hybrid remote worker, and has worked from home permanently.